I'm a first time buyer – what do I need to do to get a mortgage?
The first thing is to acknowledge is that there has been a complete change in the sales process since your parents probably last bought or sold a house! Gone are the days when First Time Buyers would "go shopping" for a property, find the place of their dreams and simply 'offer' knowing that getting a mortgage was a mere formality.
So what do you do now? The answer is very straight forward – we nearly always recommend that you get an 'agreement in principle' from a lender BEFORE you go looking for a property. This means:
You know that you have a lender who wants your application.
You know how much you can borrow.
One 15 minute phone call after you have found 'the property' is all it will take to ensure your bid is backed by a lender.
How much can you borrow?
Mortgage lenders will offer first time buyers up to 90% of the house valuation based on your own income or even 95% of the house valuation, if you have someone such as a parent willing to act as a guarantor, can use one of the Government Schemes or have squeaky clean credit for the few lenders at this level on a standard mortgage.
You can no longer use the formula of 4 or even 5 times your income as a ready reckoner for how much you could borrow. Nowadays mortgage lenders take into account how much residual income you have after all bills & debt payments have been paid. Your credit rating also has a major impact on this.
Imagine 2 customers, the first saves money each month from their £25,000 salary – the other never ends the month in credit and needs credit cards to help make bigger purchases. Lenders will look at your last 3 months bank statements to see how you live, bear that in mind next time you hand over the debit card.
The stages needed to get you, the first time buyer, on the ladder: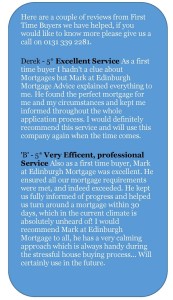 Step 1 – This is one of the biggest purchases you will ever make so put yourself in the hand of a professional, ie an independent mortgage advisor such as oursleves.
Step 2 – Be prepared for us to ask you questions you didn't know needed asking – we promise we aren't just being nosey – just trying to find the best deal for you (which might not be the cheapest at face value).
Step 3 – Expect us to offer to arrange an 'offer in principle' for you as this will let you know how much you can borrow and put you in a strong position to bid for that property.
Step 4 – You've found the house – now call us and we'll deal with the mortgage lender – go have a coffee whilst you wait.
Step 5 – 15 minutes later we can call you with confirmation you have a mortgage application agreed in principle and you are in a position to put in a bid backed by a lender.
If you are a first time buyer who is not sure whether or not you can get a mortgage, call one of our friendly expert mortgage advisers on 0131 339 2281 and let us help you find out. We will do all the leg work to find out. We will then give you free expert mortgage advice or tell you what you need to do to get on the first rung of the property ladder.
If you would like to know more please give us a call on 0131 339 2281.